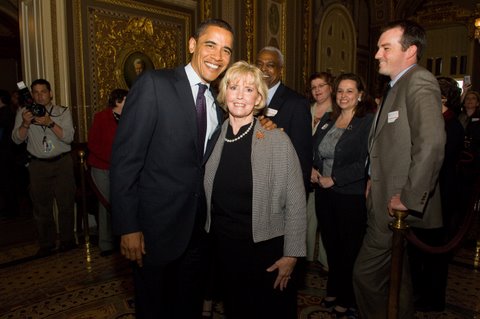 When President Obama took office in 2009,  the very first piece of legislation he signed into law was the Lilly Ledbetter Fair Pay Act, which helps ensure that workers who suffer discrimination on the basis of gender have a fair chance to sue their employers. Lilly Ledbetter, who gave her name to the legislation, discovered shortly before her retirement from a nearly 20-year career at an Alabama tire factory that she had been grossly underpaid compared to her male counterparts. Ledbetter sued and won. Her employer appealed the case all the way to the Supreme Court, which held that the statute of limitations for  federal antidiscrimination law barred her claim.
On Monday, March 22, at 7 p.m., in Thomas Great Hall, Ledbetter and Jocelyn Samuels, a senior counselor to the assistant attorney general in the civil rights division of the Department of Justice, will give a talk about the case, the passage of the Fair Pay Act, and the future of the fight against wage discrimination.
This event is free and open to the public.
Prior to coming to the Department of Justice, Samuels was vice president for education and employment at the National Women's Law Center, where she focused on barriers to advancement for women and girls in schools and the workplace.
Since the start of her own legal battle, Ledbetter has become a tireless advocate for gender equality who has been fighting to close the gender wage gap for over 10 years.
A manager at the Goodyear Tire Plant in Alabama, Ledbetter learned late in her career that she had been paid less than her male coworkers for 20 years, even though they were doing the same work. She sued, and a jury awarded her what she was owed. The Supreme Court overturned the ruling, finding that Ledbetter should have sued right after the first discriminatory paycheck she received—even though she didn't discover the discrimination until 20 years after it began. Rather than give up, Ledbetter turned her defeat into a battle for the rights of others facing discrimination. She worked tirelessly to change the law, and in January of 2009, President Obama signed the Lilly Ledbetter Fair Pay Act into law, taking decisive action to close the gender wage gap.
This event is sponsored by the SGA Special Events Fund, the X Factor, the Sociology Department, and LEAP.
Comments Off

on Discrimination in the Workplace: An Evening With Lilly Ledbetter