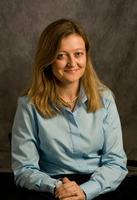 Following a nationwide search, Bryn Mawr College has named Michele A. Rasmussen as the new Dean of the Undergraduate College, announced President Jane McAuliffe today.
Rasmussen currently serves as the director of Duke University's Academic Advising Center and associate dean of Trinity College of Arts and Sciences (Duke's undergraduate liberal arts college).
"Michele has the academic background that will enable her to work effectively with the faculty on curricular issues and the student affairs experience needed to build an even more vibrant campus experience.  This combination is rare, but exactly what we were looking for," says Kim Cassidy, provost of the College, who chaired the search committee for the new dean.
The Undergraduate Dean's Office promotes the academic and personal growth of undergraduates at the College, working with students from matriculation to graduation. The Dean serves as a member of the president's cabinet and works closely with the provost's office on academic matters.
"It's very exciting and an honor to join an institution like Bryn Mawr, whose values of education, community, and personal responsibility are so clearly defined and integral to the core mission," says Rasmussen.
"I'm looking forward to helping Bryn Mawr students prepare for futures that require intellectual flexibility, engagement with and service to global communities, and the ability to face diverse challenges," she adds.
In her current position at Duke, Rasmussen has a diverse portfolio that encompasses academic, residential, and co-curricular aspects of undergraduate life. In addition to her administrative work, Rasmussen is an adjunct faculty member in the Department of Evolutionary Anthropology and a faculty in residence for one of the first-year residence halls.
From 1999 to 2001 Rasmussen worked in Duke's career center. In between her two stints at Duke, she was an associate dean at Wesleyan University.
Rasmussen earned her bachelor's degree, summa cum laude, from the University of California at Los Angeles' College of Fine Arts in 1992, where she majored in history and art history. She received her Ph.D. in biological anthropology and anatomy from Duke in 1999.
With the help of the search firm Witt/Kiefer, Bryn Mawr engaged in a nationwide search for a new dean. The college held a number of on-campus forums in the fall soliciting community input on what qualities to look for when considering applicants. The three finalists for the position visited campus in late February and early March and met with students, faculty, and staff. The search committee solicited feedback from those forums, which it sent, along with its own assessments, to McAuliffe to make the final decision.
"Michele brings energy and a great appreciation for the whole student experience to this position. I look forward to welcoming her to our community this summer. I want to thank Provost Cassidy and the rest of the search committee for their tireless efforts and for bringing to campus such outstanding candidates for this very important position," says McAuliffe.
At Bryn Mawr, Rasmussen will be succeeding Karen Tidmarsh, who has served with distinction as dean since 1990. Tidmarsh plans to take a sabbatical during the fall semester before returning to the college in the newly-created role of Coordinator of Academic Advancement Programs.
Rasmussen is a native of New Zealand, and in her free time enjoys watching movies, walking her two dogs, and planning future trips to see family and friends around the globe.
Comments Off

on Bryn Mawr College Names Michele Rasmussen New Dean of the Undergraduate College