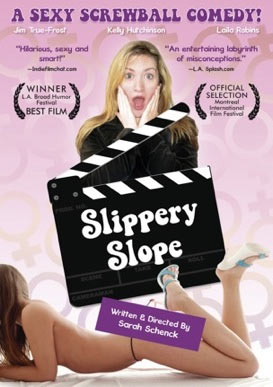 Hepburn Fellow Sarah Schenck '87 will visit the Bryn Mawr campus on Thursday, Sept. 24, for a screening of her comedy film Slippery Slope, which won the 2007 Best Feature award at the Broad Humor Film Festival in Los Angeles. Schenck will show the film at 7:30 p.m. in Carpenter B21 and respond to audience questions after the screening. The event is free and open to the public.
In Slippery Slope, a fierce young feminist filmmaker desperate for cash to finish her documentary secretly takes a job directing a porn film after her other moneymaking schemes don't pan out.  She brings her feminist ideals to the porn set, and the experience unexpectedly awakens her slumbering sexuality, arousing the suspicions of her politically correct husband and threatening her marriage.
After three sold-out screenings at the 2006 Montreal World Film Festival, the Montreal Gazette called Slippery Slope "a huge success"  and said "Montreal audiences are eating up Slippery Slope." Schenck's  first feature film as a writer and director, Slippery Slope is being distributed internationally by Lifesize Entertainment.
Four other Bryn Mawr graduates—Kristen Coveleskie '06, Kristy Fallica '06, Sarah Melker '06, and Andrea Piskora' 04—worked with Schenck on Slippery Slope at various stages of its production, thanks to Schenck's participation in the Bryn Mawr-Haverford Career Development Office's extern program.
The screening of Slippery Slope is co-sponsored by the Katharine Houghton Hepburn Center, the Film Studies Program, and the Gender and Sexuality Program.
Comments Off

on Hepburn Fellow Sarah Schenck to screen Slippery Slope