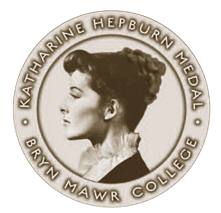 Jane Golden, the director of the Philadelphia Mural Arts Program (MAP), will receive the 2009 Katharine Hepburn Medal, Katharine Houghton Hepburn Center Director Leslie Rescorla has announced.
The medal recognizes women whose lives, work, and contributions embody the intelligence, drive, and independence of the four-time-Oscar-winning actress. The Hepburn Center memorializes Hepburn and her mother, an early feminist activist who was also named Katharine Houghton Hepburn, with programs focusing on art and theater, civic engagement, and women's health. Both Hepburns were Bryn Mawr College alumnae who defied conventions.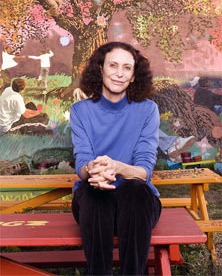 Under Golden's leadership, the 25-year-old MAP has become the nation's largest public-arts program. Begun as an anti-graffiti effort that rehabilitated taggers with artistic training, it has grown into a catalyst for community development, neighborhood activism, and civic pride.
As she scans the city for likely walls, Golden's eye is sharpest in areas beset by discord and crime, where she feels the mural program can have its most important impact. When a wall is chosen, neighborhood residents are invited to participate in the design and execution of the planned mural. The collaboration has often worked to overcome divisions and spark other community efforts.
MAP also provides art education to almost 2,000 young people at more than 50 neighborhood sites in Philadelphia, with special programs for juveniles arrested for minor crimes and chronically truant youth. Residents of crime-impacted neighborhoods and victims of crime are also a special focus of the program. Another MAP effort focuses on inmates in several local correctional facilities, encouraging them to discuss the impact of crime and to make amends by helping to restore their communities through art and mural projects.
Thanks to the success of MAP, Golden is in demand all around the world as an expert on urban transformation through public art. Municipal officials from cities as far away as Hanoi have sought her advice in creating public-art programs to heal community divisions and promote civic pride.
The Katharine Hepburn Medal will be awarded at a ceremony at Philadelphia's National Constitution Center on Feb. 7, 2009. Golden is the third recipient of the award, after actresses Lauren Bacall and Blythe Danner.