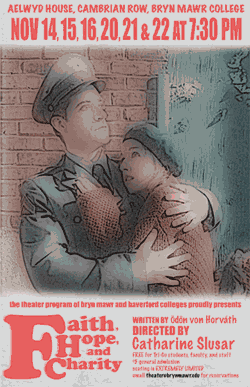 The Austrian dramatist Ödön von Horváth died in 1938 before he was able to finish his final project, a film about a young woman who struggles with poverty, love, and civil unrest during the rise of the Third Reich in Germany. Five of Horváth's descendants have come together to resurrect the project, combining archival footage with live performance that is filmed before an audience.
That is the story that frames the narrative in the Bryn Mawr-Haverford Theater Company's innovative production of Horváth's rarely performed 1932 play. Five Bryn Mawr and Haverford students take on the roles of Horvath's descendants, who take turns playing the lead character in each of the original play's five acts. Philadelphia-based actor Catherine Slusar, who is teaching at Bryn Mawr this semester, directs the play; performances run Nov. 14, 15, 16, 20, 21, and 22 at 7:30 p.m. at Aelwyd House on Bryn Mawr 's Cambrian Row.
Faith, Hope, and Charity chronicles events in the life of the poor, downtrodden Elizabeth as she does whatever she can to survive in a time of economic depression, political turmoil, uncertainty, and the rise of fascism. The audience meets the desperate Elizabeth as she tries to sell her corpse for scientific dissection. It follows her as she fails as a garment saleswoman, struggles with her love for a young, dutiful policeman, and ultimately resigns herself to a sad fate. A tragedy, Faith, Hope, and Charity is nonetheless rich with dark humor and a cast of characters ranging from humble and naïve to sinister and creepy.
Director Catharine Slusar is a veteran actor who has performed across the country and is well known to Philadelphia audiences through her work at the Arden Theatre Company, InterAct Theatre, The Lantern, Bristol Riverside, People's Light and Theater Company, and Act II Playhouse. A recipient of The F. Otto Haas Award for an Emerging Artist and several Barrymore Awards for Excellence in Theater, Catherine has taught acting at Bryn Mawr College, Rowan University, Özel Bilgi Lisesi in Istanbul, Turkey, and at her alma mater, Yale University. Most recently, Catherine starred in The European Lesson, performed as part of the Philly Live Arts Festival.
Faith, Hope, and Charity stars Melanie Bafatis, Paul Benjamin, Julia Brady, Laura Bryson, Katie Croyle, Kate Erskine, Halima Freudberg, Elizabeth Hamilton, Jessamine Kelly, Emily Letts, Alison Mouratis, Jessica Rizzo, Tyler Sagardoy, Alicia Steinmetz, Abby Wacker, and Lee Wacker. Costume design is by Maiko Matsushima, lighting design by Matt Sharp and Jacob Gilbert, sound Design by Whit MacLaughlin, videography by Jorge Cousineau, and stage management by Christina Smith.
Tickets for Faith, Hope, and Charity are free for Bryn Mawr, Haverford, and Swarthmore students, faculty, and staff and $5 for the general public. Seating is limited and available on a first-come, first-served basis. Reservations are strongly suggested. Email theater@brynmawr.edu, or call 610-526-5210.