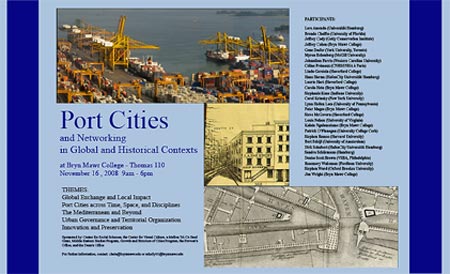 Scholars from all over Europe and North America will convene at Bryn Mawr this Sunday, Nov. 16, for a conference focused on port cities and how the international exchange of ideas has affected their development and form.
The conference, which will begin at 9 a.m. and conclude at 6 p.m., will take place on the Bryn Mawr campus in Thomas 110. It is free and open to the public.
"Port Cities have a long history as places of economic exchange and as gateways for the transmission of people, goods, built and urban form. Since the mid 19th century, European expansion and globalization have further promoted them as major nodes in a worldwide capitalist economic network," explains Associate Professor of Growth and Structure of Cities Carola Hein, who organized the conference along with Senior Lecturer of Growth and Structure of Cities Jeff Cohen, Associate Professor of History Kalala Ngalamulume, Professor of Archaeology Jim Wright, Associate Professor of Archaeology Peter Magee, and Haverford faculty members Steve McGovern, an associate professor of political science; Laurie Hart, a professor of anthropology, and Linda Gerstein, a professor of history.
"Through the 20th and 21st centuries, port cities have continued to be at the forefront for the creation of new cultural and social practices, multiethnic neighborhoods, imported building materials and technologies, design, and urban planning. Port cities have used waterfronts and their transformation as spaces to attract and promote urban and social transformation," Hein continues.
At the conference, 20 scholars will give short presentations on topics relating to port cities in Europe, Asia, Africa, and the Americas, each to be followed by discussion. Most papers will focus on the 19th and 20th centuries, but archaeologists Peter Magee and Jim Wright will provide longer historical perspectives. The presentations are divided into five broad categories:
9-10:15 a.m.: Global Exchange and Local Impact
10:30-11:45 a.m.: Port Cities across Time, Space, and Disiplines
noon-1:15 p.m.: The Mediterranean and Beyond: Ancient and contemporary port cities and networking
2:30 – 3:45 p.m.: Urban Governance and Territorial Organization
4:00 – 4:15 p.m.: Innovation and Preservation
At 4:15, Denise Scott-Brown of Venturi Scott Brown Associates will offer brief reflections on the conference and on her role in the creation of the Philadelphia Waterplan Project. Hein will conclude with a review of the day's proceedings and initiate an overall discussion (download the complete schedule here).
The conference is sponsored by the Center for Social Sciences, the Center for Visual Culture, a Mellon Tri-Co Seed Grant, the Middle Eastern Studies Initiative, the Growth and Structure of Cities Program, the Provost's Office, and the Dean's Office. For more information, contact Carola Hein (chein@brynmawr.edu).