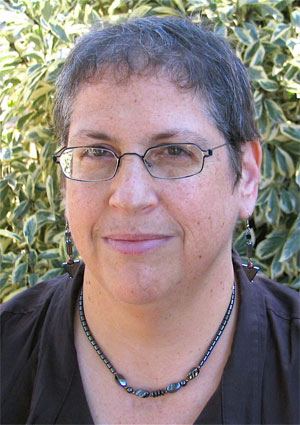 Professor of History Sharon Ullman recently appeared on 98.5 Ben FM's "Woman of the Week" show to talk about GLBT History Month (streaming audio is available on Ben FM's Web site; Ullman is the second person interviewed in this clip).
Ullman had been asked by Equality Forum, an international nonprofit that works toward gay, lesbian, bisexual, and transgender civil rights through educational outreach efforts, to co-chair its celebration of GLBT History Month. She and her co-chair, NYU Law School Professor Kenji Yoshino, compiled a list of 31 icons of GLBT history—one for each day of October— from a list of suggestions made by GLBT groups around the country. On the GLBT History Month Web site, each icon is represented by a short video describing her or his achievements and importance, with links to more information (to see the videos, visit the History Department news page).
It isn't the sort of history Ullman usually practices as an academic. "I tend to avoid the 'great person' view of history," she says. "I think focusing on individuals can obscure the larger forces that are at work in shaping the world. But the goal of GLBT History Month is to bring attention to a history that simply isn't taught in most schools. There's an urgency about the project because the general lack of knowledge about that history contributes to the prejudice and homophobia that still have a profound impact on the lives of lesbian, gay, bisexual, and transgendered people."
The 31 icons, Ullman says, "create an awareness that people in the national spotlight, people who are already loved and admired, are members of the GLBT community."
The inclusion of several people on the 31-icons list is apt to be surprising to many people. But Ullman notes that there is no "outing" on the list: "All of the icons who are living approved the project and were happy to appear on the list," she says.
As an example of the practical importance of history, Ullman offers the Supreme Court's 2003 decision in Lawrence v. Texas, which held that laws forbidding individuals of the same sex to engage in intimate sexual conduct violate the U.S. Constitution's guarantee of personal liberty under the due-process clause. Lawrence explicitly overturned a case that had been decided by the Supreme Court just 17 years earlier. The Court's opinion relied heavily on friend-of-the-court briefs submitted by historians.
"Those historians, many of whom I've worked with, gave the justices a more thorough understanding of the history of laws regarding sexuality," Ullman says, "and that enabled them to see the issue in a different light."
"History helps us create our sense of self as a community and a nation," Ullman says. "We impoverish ourselves and our understanding of who we are and where we've been when we censor parts of it."
"Excising gays, lesbians, bisexuals and transgendered people from history also makes it easier for those who would like to do so to strip us of our fundamental human rights, as proponents of California's Proposition 8 propose to do," Ullman says. "I don't permit anyone to try to make me a second-class citizen on the grounds that I'm a lesbian. If history teaches us anything, it is that the struggle to secure human rights for everyone is very tough. Understanding the past is essential to that ongoing battle for social justice."
Ullman will contribute to a student-led panel about gender and sexuality organized in honor of GLBT History Month this evening (Thursday, Oct. 23) from 5 to 6:30 p.m. in the Quita Woodward Room.