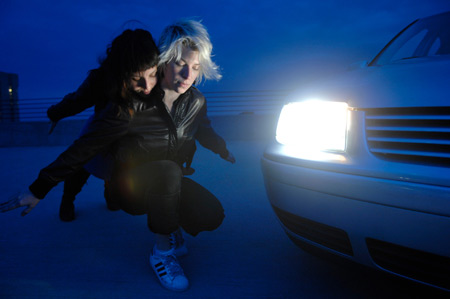 Fresh from a sold-out run as one of the 2008 Philadelphia Live Arts Festival's most talked-about performances, CAR comes to Bryn Mawr on Friday, Oct. 24, and Saturday, Oct. 25, as a special free event in the College's 2008-09 Performing Arts Series.
CAR is the inventive site-based movement installation by choreographer and Pew Fellow Kate Watson-Wallace and her company, Anonymous Bodies. It takes place in and around a moving VW Jetta, revealing the car as both an intimate and a public space. "I'm interested in making work you get to see up close … and that's easier to do when you're not in a theater," says Watson-Wallace. CAR is the second work in Watson-Wallace's American Spaces Trilogy, following House, which was mounted in a row house in West Philadelphia. Reviewing House in The New York Times, Jennifer Dunning wrote: "Imagination ruled."
Set in the familiar landscape of a parking lot, CAR playfully highlights car culture's mundane and extreme aspects. Audience members on Friday will be seated in the VW Jetta along with the dancers, passing through a series of dance and video installations that investigate the body of the performer/driver, the body of witness/passenger, and the body of the car itself. CAR, as performed for four at a time, is an enveloping experience with original video by Ricardo Rivera and original sound score by Josh Cicetti. For Saturday's performances, Watson-Wallace has devised a version of the piece to be watched from outside the car.
Bryn Mawr College Performing Arts Series subscribers will constitute most of  the in-car audiences for Friday night's performances at 7, 7:40, 8:20, 9, 9:40, and 10:20 p.m. But Bryn Mawr students, faculty, and staff members can put their names in the hat for a free ticket by becoming fans of the Bryn Mawr Performing Arts page on Facebook. Lottery winners will be notified via Facebook message by noon on Thursday.
Saturday night's performances, at 7:30 and 9 p.m., are free and open to the public. Reservations are required. For subscriptions, reservations, or information, call the Office for the Arts at 610-526-5210 or e-mail hstuddy@brynmawr.edu.
Saturday's second show will be followed by a "talk back" with the artists.
Performances of CAR will take place in the Athletics parking lot, located next to the Ward building. See campus map at www.brynmawr.edu/campus/map.shtml (Ward is building number 5). Rain dates: Sunday, Oct. 26, for the Saturday show and Sunday, Nov. 2, for the Friday show.
CAR is one of several events in this year's Performing Arts Series that feature artists performing in unusual spaces while Bryn Mawr's historic Goodhart Hall undergoes major renovations.
Tickets to other individual events in the Performing Arts Series are $18 for the general public, $15 for seniors, free for Bryn Mawr, Haverford, and Swarthmore students, faculty, and staff , $10 for students of other schools, and $5 for children 12 and under. Subscription packages offer discounts, mix-and-match ticket flexibility, and priority seating. For tickets, call the Office for the Arts at 610-526-5210. For full season info: www.brynmawr.edu/calendar/performing_arts.shtml.
Photos by JJ Tiziou