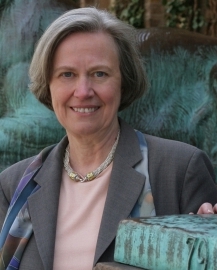 Princeton University President Shirley Tilghman, a molecular biologist, will open a lecture series on science and leadership on Wednesday, Oct. 29, at 7:30 p.m. in Wyndham's Ely Room, with a talk titled "To Boldly Go Where Men Have Gone Before: Women Scientists and Academic Leadership."
Tilghman is the first of four lecturers who, over the course of the academic year, will discuss the challenges and opportunities women face as scientists and academic leaders, in a series sponsored by the Katharine Houghton Hepburn Center and the Center for Science in Society.
"Science and academic leadership have been fields historically dominated by men," notes Hepburn Center Director Leslie Rescorla. "This lecture series celebrates Bryn Mawr's long history of distinction in encouraging women to excel in both fields, which is demonstrated by its record of graduates pursuing doctoral degrees in math and science and by its roster of women presidents dating back more than a century."
Tilghman was elected Princeton's 19th president on May 5, 2001. An exceptional teacher and a world-renowned scholar and leader in the field of molecular biology, Tilghman served on the Princeton faculty for 15 years before being named president.
A native of Canada, Tilghman received her Honors B.Sc. in chemistry from Queen's University in Kingston, Ontario, and her Ph.D. in biochemistry from Temple University. During her scientific career as a mammalian developmental geneticist, she studied the way in which genes are organized in the genome and regulated during early development. A member of the National Research Council's committee that set the blueprint for the U.S. effort in the Human Genome Project, she also was one of the founding members of the National Advisory Council of the Human Genome Project for the National Institutes of Health.
Tilghman was appointed an investigator of the Howard Hughes Medical Institute in 1988, and in 1998 was named the founding director of Princeton's multidisciplinary Lewis-Sigler Institute for Integrative Genomics. She is the recipient of a Lifetime Achievement Award from the Society for Developmental Biology, the Genetics Society of America Medal, and the L'Oreal-UNESCO Award for Women in Science. She is a member of the American Philosophical Society, the National Academy of Sciences, the Institute of Medicine, and the Royal Society of London. She also serves as a Trustee of the Jackson Laboratory and, the Carnegie Endowment for International Peace, and as a director of Google Inc.
The "Science and Leadership" series will continue next semester. The speakers on the roster: