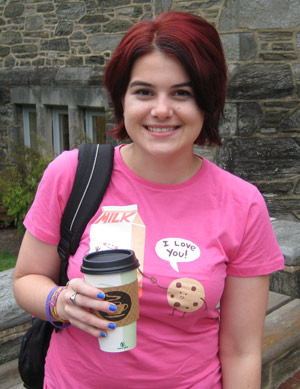 Who is Melanie Bruchet?
Archaeology major Melanie Bruchet '09 will appear in the first "Jeopardy! Kids Week Reunion" on Monday, Sept. 15. We sat down and asked her about being on the game show. However, we didn't require her to phrase her  reply in the form of a question.
Jeopardy! airs locally at 7 p.m. on ABC.
You can see Melanie as an 11-year-old contestant at
http://www.jeopardy.com/mini_sites/kidsreunion/
How did you end up on Jeopardy as an 11-year-old?
My grandfather was a big fan and he saw that they were doing a parent-child try out in Miami, which was near where we lived at the time. So we went and took the written test and did all of the stuff that they usually do. They actually couldn't find enough parents who were smart enough to go on with their kids so they decided to just have a kids' show. They did let the parents who passed the test try out for the regular show, and my mom got on the regular show the year after I was on. Of course she won't talk about that but she'll talk about me.
How did you do?
I won! The entire week's shows were filmed in just one day. They had 15 kids, and three kids competed on each show. This was back before they doubled the money. The winner for each day was guaranteed at least $5,000, and the biggest winner for the week got an extra $5,000. I missed it by like $100 or something. I saw the kid when I went back and he said, "Have you been mad at me for nine years because of $100 dollars?"
How much did you win?
$12,001.
Do you remember your Final Jeopardy question?
It was some quote from A "Christmas Carol" and the answer was Ebenezer Scrooge. I got it right.
Did you keep in touch with any of the other contestants?
Not really. The wonder that is Facebook had allowed me to reconnect with a couple of them, but other than that I hadn't actually seen any of them for nine years.
When were you contacted about this week's shows?
In June I got a call from the senior contestant coordinator asking if I wanted to come out to Los Angeles and do a reunion show and I said, "OK, sure." I flew out in August the day after I finished my summer job, so I was a little bit stressed.
Did you compete against the same kids?
No. They mixed it up so that nobody played against the same people as last time. There was one contestant from the year after us because there was a player from our year who couldn't get out of her med-school rotation.
So how'd you do this time?
I can't say. Even my grandmother doesn't know.
Where will you be watching the show?
I'm not sure I really want to watch it. Most of my friends have tickets for a concert. I'm probably just going to be working on my thesis while it's on.